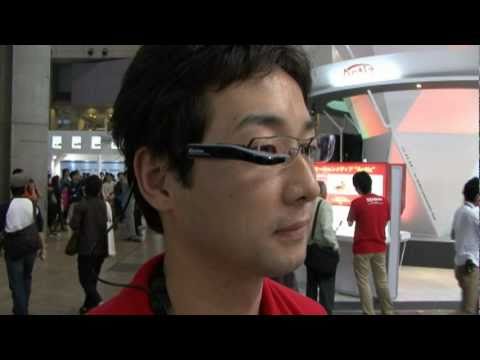 Remember seeing those futuristic looking heads-up displays that soldiers and, well, Iron Man gets to have fun with? Well, Olympus and NTT Docomo are planning to bring something like that to consumers who have lost their way with AR Walker.
It's a pair of glasses, a smart phone, and a retina display all combined in one package to enable the user to acquire information in their peripheral vision. In other words, it blasts images and text to one of the user's eyes without having the user become distracted and run head-first into a wall (as always, safety first).
AR Walker has an acceleration sensor and direction sensor, and it provides information that is relevant to your location and situation. Think Google Maps for people without any sense of direction (that would me be). One feature in particular I like is that when a user looks up at the sky, the software will present weather information to the user (joy: no longer will you actually look at the sky for a current weather assessment).
There are many other cool features, including information pop-ups to show people restaurants, shops, and tourist information. There is also a virtual character, which is supposedly reminisce of the Window's paperclip, to guide you along the way .
The oddest part about these glasses, however, isn't that they aren't particularly the most stylish thing around (I could make this work). The odd part is that if you check out the video, you can clearly see that the software powering the glasses is a version of Windows Mobile (no, not Windows Phone 7). C'mon man!
Look… hook this thing up to Windows Phone 7, and even I'll wear 'em!