Yeah, maybe I talk about iPads and iPad accessories a bit much, but this is seriously cool, so let's just get this out of the way and I swear I'll move on to something a little less iPad-centric, aight? Aight.
So this is pretty self-explanatory. Jack Zylkin is man who couldn't be bothered with the comfy, convenient ergonomics of modern input devices, and apropos has taken up the previously-unclaimed mantle of 'guy who invented the USB typewriter'. Billed as 'a new and groundbreaking innovation in the field of obsolescence', the USB typewriter is, in fact, a typewriter – or rather several different ones – that Zylkin has converted for use with any USB-capable device. Sorry about the photo, but I swear: that typewriter has a USB adapter. For real-real. Check it.
Alright, so to be completely honest, this isn't just iPad news, I guess – but on that note I can't imagine being able to suffer setting one of these things down in front of my desktop, not to mention trying in vain to peek over it as I lean back in my horrifyingly-abused computer chair. But I digress.
Anyway, Zylkin wants you to have a USB typewriter of your very own, and has several up for grabs on his Etsy account. The cost floats at about 500 bucks, but he'll do it for 200 if you've already got a typewriter you'd like converted. What a steal! We should all give him our money right away. Unless of course, you'd rather try your own hand – Zylkin's also got DIY kits up for grabs.
With all the gestural interface stuff floating around lately, it's satisfying to get back to good ol' ancient tech. Frankly, as I mentioned way up there in the headline, my WPM is entirely too high. Thank goodness for the USB typewriter.
Why don't you watch this 11-second waste of YouTube bandwidth? Can't hurt.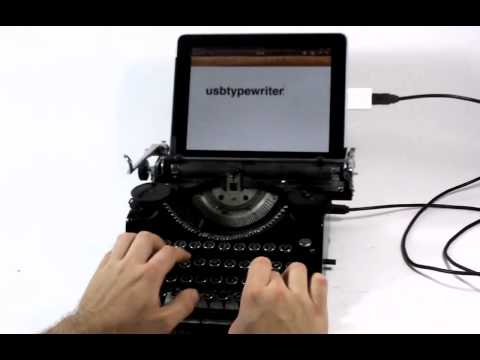 [Via Technabob]